Oh Chit. I need to get something out in the open. It drives me a little nutty. It makes my eyes roll involuntarily. Please fill in the blank:
"Honey, I am going to Home Depot to pick up a few paint __________ to help decide the bathroom wall color."
Chips
Chits
For all of those who answered A, you win the satisfaction of being correct. For all those who answered B you get an eye-roll. (And if you are fact checking you would find both are correct)
However, the correct answer from my real estate and renovation better half is: Chit. I think he likes to say it because it is almost cussing in public without the judgement. And, he knows it causes a reaction with an eye roll. Now that the chit is out in the open, let me get to the good stuff.
Not too long ago we planned to wake up before the sun kissed the horizon to head to the beach. But mother-nature had a different destiny in mind. The weather report was gray and intense so we decided not to chance making a mess of a day dodging lightning and rain. We decided to stay home and paint the kitchen.
We took advantage of our early rising and loaded the kids into the family fun wagon before 8:00 am and headed to Home Depot to look at paint chips, chits, or colors (your choice) to update our kitchen. During the drive, I experimented with two different apps to assist in making the color choices: The Home Depot Project Color and the Color Snap by Sherwin-Williams. Ultimately, neither one chose the color for me. But they both helped me to get to where I was going with a bit of confidence during our twenty-minute drive.
Home Depot Project Color App was great for getting an overall view of what the kitchen would look like "after" and it was simple. I just snapped a shot of the kitchen and then used my finger to change the color of the walls. I would chose the color family and it asked what tone and then suggested several colors to choose from. When I got to Home Depot and logged the chosen colors the app suggested, most were for chips not available to hold in my hand. I needed to hold the paint chip in my hand.
Color Snap by Sherwin-Williams was helpful in matching colors to existing elements, such as my granite countertops. This app would also be a wonderful tool to create a palette for a room re-design. What the app lacks is providing an overall "After" option. I really wanted to see how the chosen color would transform my space.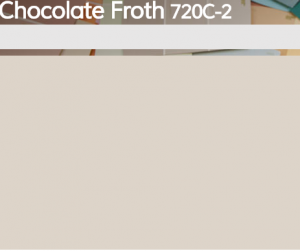 We chose Baer Chocolate Froth in a satin paint. This was not a color suggested by any of the apps, it was chosen by Mr. Big Chit himself. He is amazing at picking out interior paint colors. It was the perfectly frothy choice to say good-bye to the two-year-old yellow. And, hello calm walls that make my milk glass collection pop. Good-bye yellow that makes my granite cry. Hello monochromatic dream. Hello happy kitchen.